Reagent testing is a simple and fast way to test the purity or adulteration of a substance.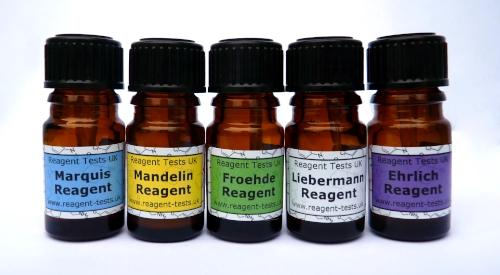 Reagent tests can be used in the lab, at the roadside or in other portable settings. The drug testing kits come with full instructions and require no special expertise, making them useful for professionals from all backgrounds. Testing takes 5 minutes and just needs an area with good light and a ceramic surface.
Only a scraping of a pill or a few crumbs of powder are required, so the tests can be used for residue analysis even if the bulk of a substance cannot be recovered.
Costing under £30 for 30 tests, the bottles make testing economical enough to be done without hesitation, and arrive in plain packaging.
The kits are suitable for use in residential settings and by door staff. PMA, pentylone and other substances can be easily distinguished from substances like MDMA or cocaine, allowing for informed decisions about further action without the need for guesswork.
Our products are compliant with the Offensive Weapons Act 2019 and explosive precursor laws, meaning no licence is required.

image for social media