We are open Monday – Friday from 10:00 – 16:00 London time. We are closed on all weekends and public holidays. Orders placed after 14:30 will begin processing the next working day.
All our shipping methods are discreet and use a plain box with nothing but the name & address on the outside. Packs will fit through a standard letterbox unless you have ordered weighing scales, which are 40mm thick.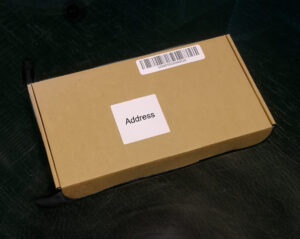 Maximum time between manufacture and shipping is 28 days to ensure products are fresh when they arrive.
You will get a payment acceptance email, and then a second email when the order is dispatched.
If you have any unanswered questions, you can email "shipping at reagent-tests.uk" – we're always happy to help.
Stealth Packaging
This item is available in the store. If you purchase it we will remove the paper instructions from your order. The bottles have their standard warning labels. If you select this option then you MUST view the instructions you receive by email.
United Kingdom
Free Shipping
Our standard shipping is low-priority to keep the cost as low as possible, currently free! Our commitment is to deliver the order within the number of days stated when you check out. No signature required.
Express Delivery
We offer an express delivery option (£3.00) which is typically dispatched within 24 hours of your order – this usually arrives within 1 day but could take up to 4 working days. If your order is very urgent, please use our One Working Day service. No signature required.
One Working Day
If it is essential that you get your order fast then we offer a guaranteed service. We will refund your shipping charge in full if it does not arrive within one working day.
Orders placed after 14:00pm are unlikely to be dispatched on the same day and will be dispatched the next working day, email us to check. Orders placed at weekends or after 15:00pm will never be dispatched on the same day.
This service requires a signature.
European Union
£9.50. Your order will typically be dispatched within 5 working days. Deliveries typically take 4-6 working days but can take up to 15.
We don't offer an express service but we can dispatch faster if you ask in the "order note" field and email us to let us know you've done that. Subject: "Order [number] Fast dispatch."
Other locations
We generally only ship to Europe and some selected other locations such as US, Israel and Russia. If you can place the order, we will send it. If not, you won't be able to pay.
Incorrect Addresses
Customers must provide a full and correct address. Incorrectly addressed parcels will be delivered to the address provided. Incorrectly addressed parcels may be delayed for 60 days in the UK or delayed for 120 days outside the UK.