Reagent Tests UK has always been committed to making products that people love to use. From the very start, the goal was to run the type of company that people love to do business with, due to the buying experience but also the quality of the products.
While colorimetric laboratory tests have existed for over 100 years, the practise of reagent testing drugs is relatively new and until 2010 there were very few suppliers. Accordingly, there is a relatively small population of knowledgeable people who know about the tests and there are still many improvements to be made in terms of the consumer products.
Given that reagent tests need to undergo a chemical reaction in 1-3 minutes, it's not surprising that they are highly reactive chemicals. While this makes them very convenient and fast to use, it also means they can react with things that we would prefer them not to. We have used glass bottles for our products since the beginning because even unreactive polyethylene plastic accelerates the degradation of reagents, through slight permeability as well as direct reaction with the reagents themselves.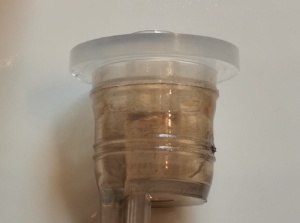 However, glass is a hard material to shape and as a result we have always used plastic dropper tips, meaning that a small amount of plastic does still come into contact with the product. This is minimised by storing upright, but still has an effect.
As we've grown we've looked for ways to improve our products and in late 2018 we had the idea to try making the plastic droppers more chemical resistant using fluorine treatment. We were delighted to find that the treatment increased the shelf life of reagents by 20-40% without any other impact on performance, and started selling reagents in fluorinated bottles in 2019.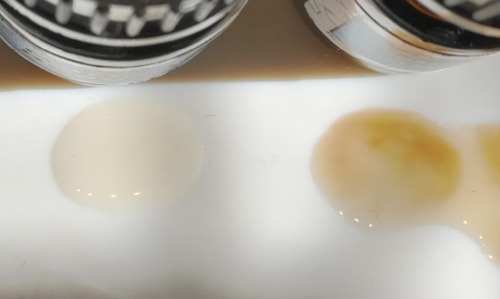 Why make this public?
Of course, it's difficult to claim that your products have a markedly longer shelf life without telling anyone why. We are really proud of our products and naturally we want to be able to show off their quality, so the time has come to reveal another reason why our customers can be happy they chose to buy from us.
Even when we're not shouting about it, our products are being developed and improved, and this is one of the things that makes it so easy to be proud of our products and easy for our customers to know that they are getting the best value.
As of August, we're pushing ahead with our next innovation and we know that we only serve some of the thousands who use colorimetric tests worldwide. We believe that a rising tide lifts all boats, and if every testing product is better then testing will slowly start to spread beyond the knowledgeable core of users that currently exist. This in turn will help Reagent Tests UK even if not everyone buys from us and importantly it helps all the people who rely on the results of the fantastic technology that is reagent testing.
Maybe this doesn't revolutionise the whole scene but short shelf lives are definitely disappointing to customers so we urge our kindred spirits running other companies to investigate fluorinating their bottles, particularly where they are using plastic bottles and droppers.
Technical Notes
We opted for the maximum level of fluorination available. The lowest level did not produce good improvements in shelf life.
Interestingly, the actual plastic itself had an uneven pattern with the mecke reagent (which shows the worst discolouration of all reagents) and although the shelf life was massively improved, the plastic itself seemed almost worse.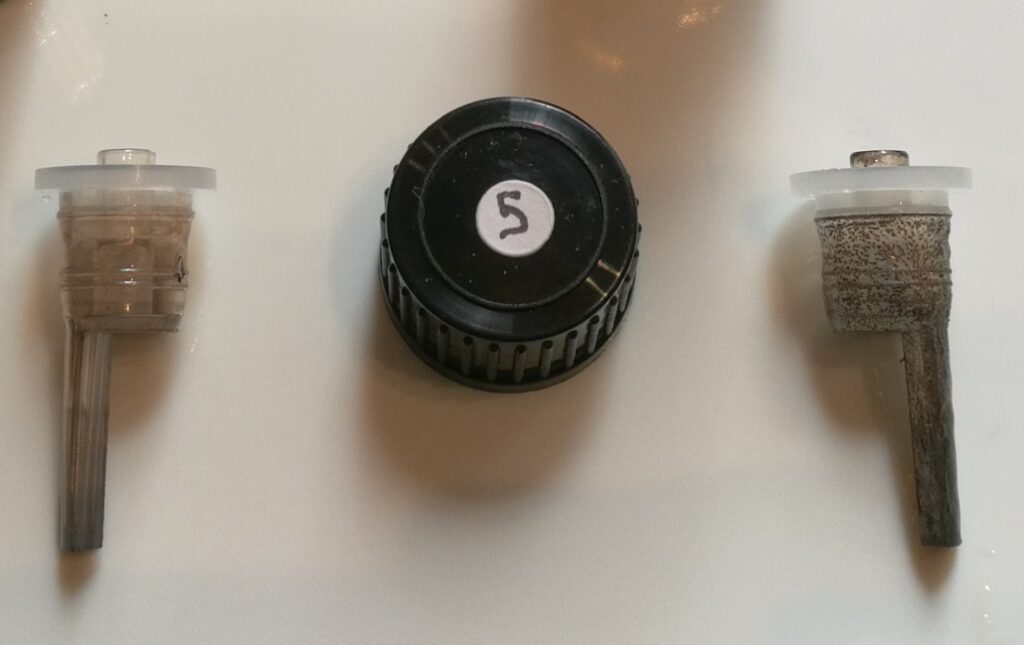 Written by Guy Jones, MChem