In a move which will probably not surprise anyone, the UK government has formally stated that it will make ethylphenidate and its related compounds class B drugs. Ethylphenidate gained popularity both as a smart drug used by some students and as a recreational stimulant and is closely related to methylphenidate (ritalin) but has a reduced potency and shorter duration.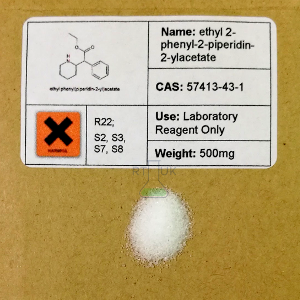 The ban follows the advice of the Advisory Council on the Misuse of Drugs (ACMD), whose role is to perform detailed research into issues relating to drugs for the UK government so that it can make informed decisions about drug policy. The ACMD has done extensive research on ethylphenidate and its analogues, with multiple comments released about their prevalence and harms and on 10th April 2015 it recommended that ethylphenidate should be subject to a "Temporary Class Drug Order" (TCDO), which criminalises import and sale but not possession. The ACMD struggled to find detailed information about the group of compounds and remarked in June 2016 that the TCDO had been very successful in reducing use and that more time was needed for a good decision.
Their research continued until 10th March 2017, when they released their final report recommending the group of compounds should all become Class B substances. This was accompanied by one of their typically detailed research reports, again representing possibly the best collection of knowledge about the compounds that currently exists. The report includes detailed information about the drugs' activity levels in the brain as well as details about the legal situations in other countries:
Ethylphenidate is controlled in China, Denmark, Estonia, Germany, Hungary, Italy, Poland, Portugal, Slovenia, Sweden and Turkey. It is also classified under analogue scheduling in the US and Australia.
As well as ethylphenidate, a number of less popular analogues were also covered, perhaps the most interesting being 4-fluoromethylphenidate which was reported to be more potent and be much less compulsive.
The change in the law will come into force on the 31st May and cover the substances listed below. Class B offences could result in up to 5 years for possession or up to 14 years for supply.
Common Name
Classification
N-Benzyl-ethylphenidate
Illegal (UK Class B)
Ethylnaphthidate
Illegal (UK Class B)
Ethylphenidate (EPH or EPD)
Illegal (UK Class B)
Isopropylphenidate (IPP or IPPH)
Illegal (UK Class B)
Methylmorphenate
Illegal (UK Class B)
Methylnaphthidate (HDMP-28)
Illegal (UK Class B)
Propylphenidate
Illegal (UK Class B)
3,4-Dichloroethylphenidate
Illegal (UK Class B)
3,4-Dichloromethylphenidate
(3,4-DCMP)
Illegal (UK Class B)
4-Fluoroethylphenidate
Illegal (UK Class B)
4-Fluoromethylphenidate
Illegal (UK Class B)
4-Methylmethylphenidate (4-MMPH)
Illegal (UK Class B)